Vinay Konda

Vinay Konda his training in music at the age of 8. He has been learning Carnatic saxophone from Dr Sumanth Swaminathan since the age of 11. He was fortunate to train under the tutelage of Padmashree Dr. Kadri Gopalnath in the summer of 2016. Vinay has also studied Carnatic vocal music with Sri Ashvin Bhogendra and Sri D Raghavachari. He has given several performances at temples for Indian cultural organizations such as Sruthi, TFAS-NJ, AIM, etc. In school, Vinay enjoys participating in the school band, tennis team, and Model UN club.
Anvita Hariharan
Anvita Hariharan has studied South Indian Classical saxophone with Dr. Sumanth Swaminathan since the age of 11. She has undergone further training with the eminent saxophone maestro Padmashree Dr. Kadri Gopalnath during her annual visits to Chennai.
Her performance career has spanned a variety of decorated venues and festivals. Notable occasions include Krishna Gana Sabha and Issai Mazhalai's 8th Margazhi festival in Chennai, Chicago Tyagaraja Utsavam, Cleveland Tyagaraja Aradhana festival, and various organizations in Chicago, New Jersey, Rochester, Washington and Madison. She has won competitions at Chicago Tyagaraja Utsavam, Cleveland Tyagaraja Aradhana and was awarded scholarships in Chicago for her dedication to music. In the past few years, Anvita has been invited to perform at religious events, wedding concerts and dance productions. She is currently pursuing a major in Public Health at the University of Illinois, Urbana Champaign
Adarsh Mattu
Adarsh Mattu has studied Carnatic saxophone with Dr. Sumanth Swaminathan since the age of 11. He has performed in various festivals in the Chicago area including the Chicago Thyagaraja Utsavam and Chicago's Kannada Koota. Adarsh currently studies at Naperville Central High School in Illinois. He has had a keen interest in STEM since a young age and has participated in several science competitions. He and his teammates were national finalists for many years, and he recently secured a national title, which afforded him the opportunity to travel to the White House Science Fair as honored guests to meet President Barack Obama and other famous television personalities. He is also an active USCF rated chess player. His first passion is playing saxophone, and he has actively participated in school concert, jazz, and marching bands for many years.
Siva Nuthanapati
Siva Nuthanapati was introduced to music at a very young age by his parents, and he has since developed a passion for vocal, instrumental, and dance music. He began learning to play the saxophone at the young age of tenfor the North Penn School band. His interest in jazz soon expanded to include Indian classical music. It was at this stage that he was introduced to Carnatic classical saxophone by Dr. Sumanth Swaminathan. After three years of laborious work, he premiered in concert with his guru where he successfully raised over $5,000 for the American Cancer Society. Following this premier performance, he continued to participate locally in events coordinated by the Telugu Association of the Greater Delaware Valley, the Bharthiya Temple of Chalfont, and SRUTI, The India Music and Dance Society. Apart from his interest in music, Siva is socially conscious and is actively involved in a variety of community services. He is currently studying biology at Temple University, andhe intends to use his musical skills to help the community in any way that he can.
Mahidhar Nuthanapati
Mahidhar Nuthanapati was introduced to the vocal tradition of Carnatic music at an early age of 4. At the age of 9, he met Dr. Sumanth Swaminathan, who initiated his journey on the saxophone. He continues to passionately study music under the instruction of Dr. Swaminathan while also playing for his school Jazz Band and Wind ensemble. In addition to his interests in music, Mahi has participated in science fairs and plays tennis for his school team. He currently attends school at Pennfield Middle School in the North Penn School District.
Adarsh Rajaraman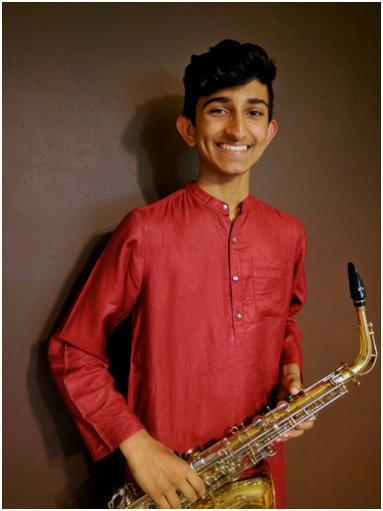 AdarshRajaraman began saxophone lessons with Sri Sumanth Swaminathan at the age of 10. In the past 5 years, Adarsh has competed in the Cleveland ThyagarajaAradhana, and has won several prizes. He has also participated in the Chicago ThyagarajaUtsavam as well as the Milwaukee ThyagarajaAradhana.
Adarsh has also competed in the Wisconsin School Music Association. He has performed at the state level for two consecutive years, and he has gotten the nomination for The Best Soloist Award.
In addition, Adarsh received the Outstanding Musicianship Award from the Elmbrook School District in 2015. He practiced with the Milwaukee Youth Symphony Orchestra for 3 years, and now he takes part in the Wisconsin Conservatory of Music. In his free time, Adarsh also enjoys playing with the school frisbee team as well as participating in its jazz band.  Currently, Adarsh Rajaraman attends Brookfield Central High School.