Musician Profiles
This page is dedicated to the accompanying artists and general musicians with whom Sumanth has performed or worked over the course of his career.
Mridangists
Vijay Ganesh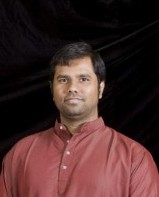 Vijay Ganesh has studied mridangam since the age of 6. He had his tutelage under the great and illustrious master: Sri. Kumbakonam Rajappa Iyer. He has accompanied many leading artists in USA, Canada and India including Dr.Omana Kutty, Jayanthi Kumaresh, Mala Chandrasekhar, Sri Malladi Suri Babu, Gayatri Venkatraghavan, Smt Vijayalakshmi Subramanian, Sri TK Govinda Rao, and Sri Maharajapuram Ramachandran.
Among his many honors and awards are the best mridangist awards from the Chennai Music Academy (1999) and Sri Krishna Gana Sabha (1998) and the Government of India Cultural Scholarship for mridangam. He is a graded A.I.R (All India Radio, Chennai) artist. Vijay has accompanied Sumanth in several concerts during the last three years. He currently works as a business analyst in Virginia while teaching mridangam and performing for artists around the country.
Athrey Nadhan
Athrey Nadhan, from Chicago, IL, started learning the art of playing the Mridangam at the age of five and undergoes advanced training from the esteemed professional, Srimushnam Sri V. Raja Rao in Chennai, India.
Athrey has accompanied Sumanth Swaminthan in multiple performances and is a regularly featured artist in concerts across the United States as well as Chennai, India during the Music Season. Athrey has also accompanied several other instrumentalists including:
Veena artists: D. Balakrishna, Jayalakshmi Sekhar and Nirmala Rajasekhar
Flautists: T.S. Sankaran and R. Tyagarajan
Violinists: Ambi Subramaniam and Srikanth Venkataraman.
The vocalists he has accompanied include Seetha Rajan, K. Gayathri, B.U. Ganesh Prasad, Trichy Ramesh, Manasi Prasad, Vidya Kalyanaraman, V.Sankaranarayanan, Kiranavalli and Carnatic Music idol Bharat Sundar.
Athrey has performed in several concerts across the United States as well as in various Music Sabhas in Chennai and Trichy including the Music Academy, Narada Gana Sabha and Raga Sudha halls. Athrey also learns Carnatic vocal music and plays the clarinet as part of the Wind Ensemble as a high school junior at Neuqua Valley High School in Naperville, IL.
Ravi Subramanian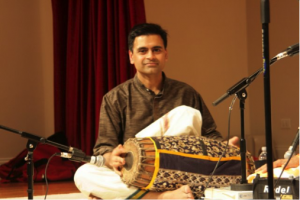 Ravi started his laya journey at the age of 6 when he came under the tutelage of Kumbakonam Sri Rajappa Iyer. He had his advanced training under the famous Mannanagudi Sri A. Easwaran and continues to learn from him. He has accompanied accomplished professionals such as the late Dr. N Ramani, The Carnatica Brothers (Sashikiran, Ganesh) and Shankaran Namboothri. Ravi run's a school of rhythm called Swaralaya in Chicago, through which he trains and prepares future mrudangam artists. Professionally, Ravi is a senior product manager for a multinational company.
Violinists
Srikant Venkatraman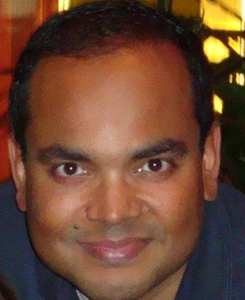 Srikant Venkataraman is a violinist based in Chicago. He has been playing violin since the age of 4. His teachers include Smt. Ranjani Narayanaswami, Smt. Manjula Rao and Smt. Parvati Shankaran. He has also received advanced training from many leading musicians.
Srikant has accompanied a plethora of leading Carnatic music legends including: K.V. Narayanaswamy, Tanjavur S. Kalyanaraman, T.N. Seshagopalan, Nedenuri Krishnamurthy, M.Balamurlikrishna, and K.J. Yesudas. He has also played for stars of the current generation including Sudha Raghunathan, T.M. Krishna, S. Somya, and N. Ravikiran
Srikant is highly sought after for bharatanatyam performances. He has taken part in many prestigious festivals in the US, Canada and India including the Chennai Music season, the Cleveland Thyagaraja Aradhana, Chicago's Opening of Millenium Park and Toronto's 50th Anniversary of Indian Independence. Srikant has also performed on both PBS and National Public Radio.
L. Ramakrishnan
L. Ramakrishnan hails from a musical family and was formally initiated into a musical odyssey by his mother at the age of 2. He was trained in vocal music for 8 years before beginning his training Carnatic Violin under the able guidance of Smt. Visalam Vageeswar at the Shanmukhananda Vidyalaya, Mumbai. Ramakrishnan performed his first solo concert at the age of 12 at Shanmukhananda, Mumbai.
He came under the wings of the distinguished violin maestro Kum.A.Kanyakumari at the age of 13. It was during this phase that he learned the importance of vocal orientation in instrument playing and the proper enunciation of Sahitya. Ramakrishnan has performed with Kanyakumari in her grand musical ensembles on numerous occasions. He has done additional training under Shri. T.K. Govinda Rao and Smt. T.R. Balamani.
Ramakrishnan has accompanied many senior and upcoming artists: T. K. Govinda Rao, A. Kanyakumari, Nedunuri Krishnamurthy, M. Balamuralikrisha, Abhishek Raghuram, to name a few. Among the many honors and awards conferred on him are Naada Bhooshanam – Nadopasana (Mumbai), Shanmukha Mani – Shanmukhananda (Mumbai), Best Violinist in sub-senior slot – Music Season (Music Academy). Ramakrishnan has performed all over India and across the United States. He currently works as the senior tech lead at Aetna in Connecticut.
Swetha Narasimhan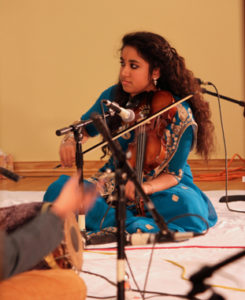 Swetha Narasimhan started learning violin at the age of 6 from Dr. Narayan Raman in Indianapolis. Later, she was taught by several violinists, including Shri. Purna Chander Rao, Trichy Shri. Sathyamurthy, and Smt. Lalgudi Vijayalakshmi. She is currently learning from Smt. Gowri Ramakrishnan. Swetha has participated in several music festivals and won first prizes in competitions in CMANA Great Composer's Day and the Cleveland Thyagaraja Aradhana. She enjoys accompanying many local artists in and around New Jersey and Pennsylvania. Swetha has a bachelors degree in mathematics from Bryn Mawr University and a Masters in Education from the University of Pennsylvania. She teaches mathematics at the high school level and continues to perform in the Philadelphia and New Jersey areas.